Fourth year Bachelor of Fine Arts student Kelsey Jules stands in front of some of her work that will be on display at the graduating students' exhibition tomorrow, April 21, 2017.
(KIM ANDERSON / iNFOnews.ca)
April 20, 2017 – 7:30 PM
'CAN YOU IMAGINE BEING FORCIBLY TAKEN AWAY FROM YOUR HOME?'
KAMLOOPS – As she lie on the floor, Kelsey Jules imagined she was a child trapped in the residential schooling system as she stared up and snapped a photograph of the intricate, beautiful and decaying ceiling in the building that once was a Kamloops residential school.
Jules' photograph is huge. It's printed at least four feet tall and hangs alongside portraits of her peers. In her work, the 22-year-old Tk'emlups te Secwepemc artist and TRU fine arts student addresses the effect the schools have on her community today.
She asked her friends– people she grew up with – three questions about residential schools. Jules pairs their portraits with their own written words. The backdrop for all the photographs is the building that formerly housed the Kamloops residential school. Some of the participants' answers are gritty and sombre.
"I have no grandparents, lost to suicide. I have no mother, lost to suicide. I've lost a brother because of a culture that accepts drugs and alcohol," a 24-year-old named Christina replied to one of the questions.
Jules says some of her work is related to the work of the Truth and Reconciliation Commission. A common theme she repeated was to "never forget, but continue to move forward."
The Truth and Reconciliation Commission's mandate is to inform all Canadians of what happened in the Indian Residential Schools, according to its website.
There were more than 130 residential schools in Canada that date back to the 1870s and the last school closed in 1996. The schools were federally funded and run by the clergy. More than 150,000 Aboriginal children were put in these schools where they were not allowed to practice their own culture, or speak their own language, according to the Commission's website.
Jules' work is part of the Bachelor of Fine Arts graduating students' exhibition. The show opens tomorrow evening at the TRU gallery. She only works with film cameras and has been shooting since high school.
"I shot these with 35 mm analog film. It's more tactile. It does slow you down, and that's a good thing," she says. "I shot at least 25 rolls of film over a few weeks."
While Jules didn't experience the tumultuous childhood that many of her peers did, she often saw the trauma second hand, through their experiences. Her friends sometimes sought refuge with her family during hard times.
"I had a really happy childhood. It was great. That makes me slightly disconnected to the youth around me and this project really helps with that. My dad was a police officer and my mom worked in the band office. My life was normal, in my mind," Jules says.
The very building where generational trauma of residential schooling started now houses daycares and office spaces.
"I think it suits my work, for one thing. It's still standing and it's still a part of history. That's the evidence of it and having it there is a reminder. It's something that will drive us and push us forward," Jules says.
Her project doesn't end when these photographs are taken down at the end of the TRU exhibition. She wants to continue this body of work into graduate school and beyond.
Jules says she knows with this subject matter, some viewers will wonder why she's doing it and that even though the residential school system is in the past, there is no way to "just get over it."
"Can you imagine? Just think about it for a second," she says. "You don't know your language anymore. You don't know where you came from. You don't know your family. Can you imagine being forcibly taken from your home without a choice?"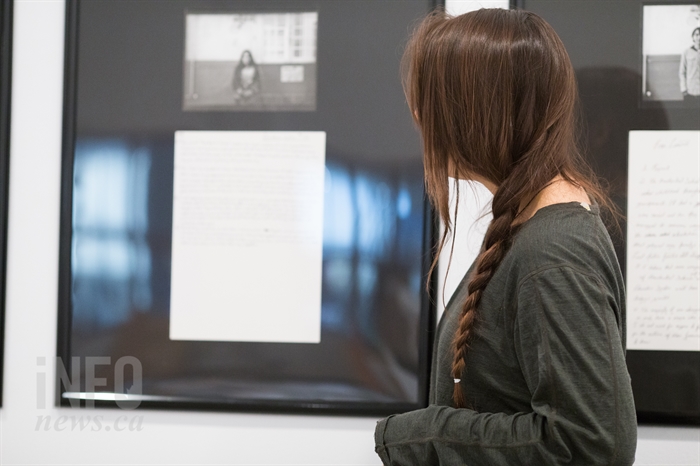 Kelsey Jules reads from one of her pieces which include a portrait and a written account of how residential schools affect her peers today.
(KIM ANDERSON / iNFOnews.ca)
---