Northern Manitoba students pen song about residential schools
---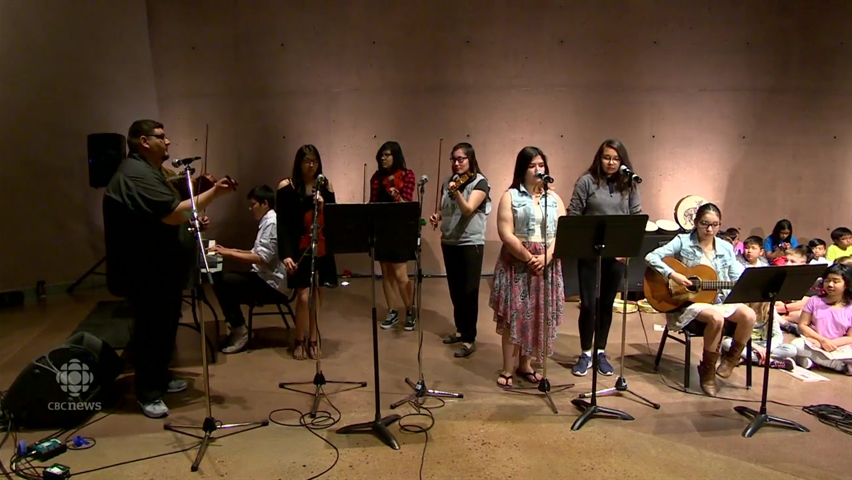 Norway House youth perform The Voices I Gained at the Canadian Museum for Human Rights
CBC News Posted: May 24, 2016 11:30 AM CT Last Updated: May 24, 2016 2:19 PM CT
Madison Winter sings as her classmates from Norway House perform. (Jaison Empson/CBC)
Seven students from northern Manitoba performed their original song about the dark legacy of residential schools at the Canadian Museum for Human Rights.
The performance Tuesday afternoon was organized by the museum and the National Arts Centre. It will be the students' first public performance outside Norway House, their home community.
"My own grandma went to residential school so I'm like practically giving this song to her. So when she heard it, she teared up and that really touched me," said student Michelle Chubb.
Before the event, three of the students from Helen Betty Osborne Ininiw Education Resource Centre stopped at the CBC Winnipeg studio to talk about the attention the song, The Voices I Gained, is getting.
"I feel great. I didn't think that this would go this far," said Chubb. "I just thought it was just like a project in the school. I didn't think we would come over here to perform."
"It was a big shock, honestly," said Madison Winter, who thought the exercise would be a good bonding experience, but had no idea it would garner media attention and public performance opportunities.
"It makes us proud," said Dwayne Williams.
Chubb, who plays guitar in the piece, used some of her grandmother's residential school stories to write the lyrics.
"She told me so much, I actually felt it myself," she said.
Their song was inspired by late Mi'kmaw elder Rita Joe C.M.'s poem I Lost My Talk, which expresses the pain of her experience at residential school.
The Norway House students are one of five Indigenous youth groups to be approached by the National Arts Centre to participate in the Rita Joe Song Project, created in response to Joe's call for Indigenous youth to find their voices, share their stories and celebrate their talents.
The song was written and a music video filmed in two days with the help of Ted Longbottom, a Manitoba Métis singer-songwriter.
"It was surprisingly smooth but very go, go, go," said teacher Ryan D'Aoust.
Michelle Chubb, playing the guitar, says the being a part of the song has made her feel great. (CBC)
In an effort to assimilate young Indigenous students to the European way of life, residential schools banned the use of their ancestral languages and culture.
That loss of language is what Joe's poem title references. Now, as Indigenous people try to reclaim what was lost during those years, there is a resurgence in traditional languages — the source of the title of the students' song.
"We are slowly trying to build our language again. We're gaining our voices back," said D'Aoust.
---