Richmond Hill Liberal
Joel Clements is adamant: he does not want this story to be about him.
But in a way, it has to be, because he is just "an ordinary Canadian" and isn't that the point?
Like many of us, the Richmond Hill man was moved by Tragically Hip singer Gordon Downie's plea, during his summer concert in Kingston, for Canada to address its historical mistreatment of indigenous people.
But unlike many of us, Clements, 47, was moved to action and last week he found himself on an eye-opening excursion back through time and into a world of hurt in northern Ontario.
It showed him, he says, that we can all make a difference, no matter how small.
During his summer concert, Downie, who has terminal brain cancer, drew attention to the legacy of Canada's residential schools, calling on all Canadians to take action.
For 150 years, more than 150,000 children were sent to these institutions, used as a tool of assimilation, inflicting physical, mental, and sexual abuse on many.
One of those students was Chanie Wenjak, an Anishnaabek boy who ran away from his school at the age of 12, trying to return to his home in Ogoki Post more than 400 miles away. He only made it 60 km before he died of exposure beside the railroad tracks on Oct. 23, 1966.
Early this month, Downie's Courage For Gord fundraising team announced it would retrace Chanie's footsteps Nov. 19 and 20 as a gesture of reconciliation, respect and healing.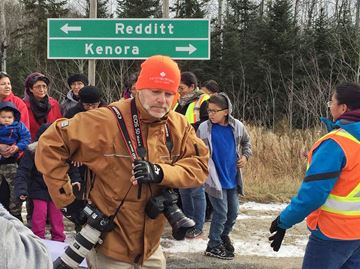 That's where Joel Clements, "ordinary Canadian", came in.
Downie's words had "hooked my heart", he says.
He asked to join the walk as official photographer and offered to pay his way.
To his surprise, the group welcomed him aboard.
Driving along a wintry highway from Kenora back to the Winnipeg airport last Monday, Clements struggled to process what was, for all involved, an emotionally powerful journey.
Clements had arrived at the school site at dawn that Saturday morning, ahead of the others. As he sat in the darkness next to the old swing set waiting for the sun to rise, he caught his breath: a lone eagle floated above.
The eagle is a powerful symbol in indigenous culture, communicating with the creator and encouraging us to embrace the broader view of life.
This spiritual creature was with them throughout the journey.
By 9 a.m., the walkers had assembled for a smudging ceremony. Bathed in smoke from the sacred fire, they set out to the sound of singing and drumming, a prayer for safety and healing.
It was a bone-chilling cold and as they walked and talked quietly, Indigenous and non-Indigenous side by side, they imagined Chanie's lonely journey in his light jacket on the icy trail.
At one point, Clements walked with an elder who sang a healing song. With reverence, the man lifted his arms to the sky and Clements looked upwards: another eagle glided above.
Further on, at a desolate spot surrounded by marshy grass, they all halted again. Seven eagles circled in the grey sky. The silent sight was eerily comforting.
The walk came to an end where Chanie left the highway to follow the railway tracks.
Chanie's four sisters paused there, staring down the rails towards where their brother's body was found, 12 kilometers away.
It was youngest sister Martha's first visit to the site; she was profoundly moved, Clements says. Martha had idolized her big brother, was always waiting at the dock for him to come home by float plane for Christmas and school breaks.
That October day 50 years ago, she was just five, her big sister Pearl 15 – the only ones home when Chanie's lifeless body was delivered to their door.
The authorities hadn't even told the family he'd gone missing.
Martha and Pearl broke away from the Wenjak walkers and headed east down the track. A little ways on, Martha collapsed. Her sister knelt next to her, allowing her to weep. An elder joined them with a smudging pot and circled them with smoke.
That weeping – there was a freedom to it, Clements says. Most of the participants shed tears on that journey. It felt healing.
And that, says Clements, is what this was about. Healing.
"There is an incredible amount of shame felt by the indigenous. Everything to do with them, the soul of who they were, was erased.
"But I never learned about this in school… We can't brush all our inconvenient history under the carpet."
We need to bridge the gap between the two communities and the best way to do that, Clements believes, is by forging relationships.
Out of friendship, he says, comes trust.
Clements returned to Richmond Hill this week loaded up with photographs and memories. He hopes to use both to spread the word – his "small" effort towards reconciliation.
"This is not about some great thing I've done," he adds. "Who am I? I'm just nobody. Just a Canadian. A guy who grew up in Toronto and answered Gord Downie's call."
---