"THE HIGHWAY" // Kitsumkalum First Nation, BC
Posted On January 29, 2017
---
'The Highway' Music Video Raises Awareness For Missing, Murdered Indigenous Women
Students from a B.C. First Nation created a heartbreaking music video about missing and murdered indigenous women.
The song called "The Highway" was penned by students at the 'Na Aksa Gyilak'yoo School in Kitsumkalum First Nation, just outside of Terrace in northern B.C.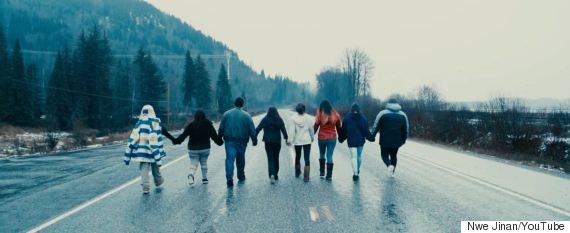 Students hold hands in a still from "The Highway." (Screengrab: Nwe Jinan/YouTube)
The video that accompanies the ballad shows a girl who hitchhikes on Highway 16 — nicknamed the "Highway of Tears," for the high number of women that have disappeared along the route over the past 50 years — while the teens sing about resilience and their community's strength.
"I'm bothered by how my nation has been bullied and controlled, living here has been so hard and there's a road that leads to tears," raps one student.
"The Highway" was produced by N'we Jinan, a non-profit organization that aims to encourage First Nations youth to express themselves through the arts. The group brings a mobile recording studio into schools, where participants can learn about sound recording and music production.
"Within the studios' residency, original songs are created containing messages that focus on cultural identity, language, struggle, love and self acceptance," reads the program's website.

Watch "The Highway" above.
---