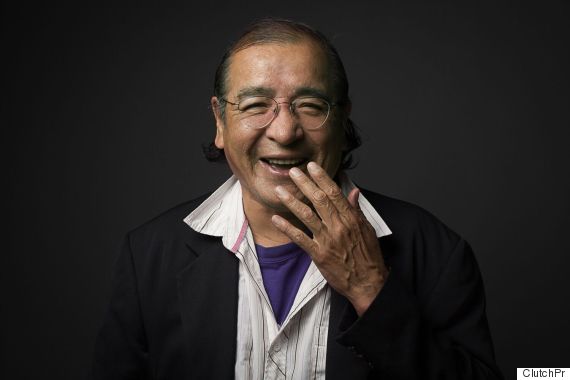 Tomson Highway is a Cree storyteller, so it's fitting that the playwright, novelist, classical pianist and Order of Canada recipient's bio begins like the opening line of a tale: "Tomson Highway was born in a snowbank on the Manitoba/Nunavut border to a family of nomadic caribou hunters."
But the 64 year old, who spoke to The Huffington Post Canada on the eve of his "Songs in the Key of Cree" cabaret premiere in Toronto, wants to set the record straight about what exactly that means.
"The thing about that that Southerners don't understand … in those days in the 1950s, everybody was born like that. That was the lifestyle. That was normal; there was nothing unusual to be born in the snowbank."
"I was almost born in a traveling dogsled," Highway adds as an aside, mentioning his father was also a world champion dogsled racer. "They were traveling across the north when my mother went into labour and they had to pitch a tent in the snow and I was born that night at four o'clock in the morning."
 "My father was the king of this enormous domain; we grew up as princes of the north. This country has royalty, too."
 But as normal as it may have been in that time and place, Highway, the 11th of 12 children, does acknowledge it has a mythological air to it.
"What a way to start, and it's been like that ever since. I live on a magic carpet," he says, returning to reminiscences of the impossibly vast, largely empty landscape surrounding the Barren Lands First Nation in northern Manitoba where he grew up.
It's located 1200 kilometres north of Winnipeg near where the province meets both Saskatchewan and what's now Nunavut. The on-reserve population was 540 in the 2011 census, up from 305 residents in 2006, with a median age of 21.
"The most privileged boys in Rosedale and Forest Hill are lucky if they get 20 metres of lakefront for two weeks every summer. We had 50 lakes for two months every year; we had entire islands to ourselves, just us. It is unbelievably beautiful up there and nobody sees it but us because it's inaccessible," he says.
"The older I get, the more I realize what a spectacular childhood it really was. My father was the king of this enormous domain; we grew up as princes of the north. This country has royalty, too."

Authors Margaret Atwood and Robertson Davies, accompanied by Paul Quarrington on guitar, Sandy Ross on drums, and Tomson Highway on piano, rehearse for a PEN writers' group benefit concert in December 1990. (Photo: John Mahler/Toronto Star via Getty Images)
Lest one think that Highway — whose personal philosophy is best summed up as "life is an act of joy" — wears only rose-tinted glasses, he does acknowledge, "There is hardship, yes absolutely. It's not an easy land. Somebody told me that the only time [white people] read about native people is when aboriginal women are murdered.
"Well, the only time we hear about you guys in the papers is when somebody murdered somebody or Pamela Wallin has stolen thousands of dollars. The positive stuff never gets reported. It's the same with the residential school issue."
On that subject, Highway speaks from experience. At age six, he was taken from his home and sent to a residential school, returning home only for the two summer months.
"… nobody's interested in the positive, the joy in that school"
But here's where Highway's story diverges from many of the experiences portrayed in the media or recounted to The Truth and Reconciliation Commission, which released its final report on the legacy of Canada's residential schools.
(Along with $2 billion in compensation for the more than 80,000 residential school survivors, the report also includes 94 proposed remedies which Trudeau has promised to implement, including "eliminating the funding gap between children being educated on reserves, and boosting the number of aboriginal students in post-secondary education.")
"All we hear is the negative stuff, nobody's interested in the positive, the joy in that school. Nine of the happiest years of my life I spent it at that school. I learned your language, for God's sake. Have you learned my language? No, so who's the privileged one and who is underprivileged?
"You may have heard stories from 7,000 witnesses in the process that were negative," he adds. "But what you haven't heard are the 7,000 reports that were positive stories. There are many very successful people today that went to those schools and have brilliant careers and are very functional people, very happy people like myself. I have a thriving international career, and it wouldn't have happened without that school.
"You have to remember that I came from so far north and there were no schools up there."
 "I learned your language, for God's sake. Have you learned my language? No, so who's the privileged one and who is underprivileged?"
 He says that by the time he was 18, he was playing Brahms, Chopin and Beethoven: "How many white boys can get to do that? And they grew up with grand pianos in their living rooms!"
Highway's novel Kiss of the Fur Queen, however, paints a somewhat more complex picture as it revolves around two brothers taken from their family and sent to a residential school where their native language was forbidden, their names were changed and they were sexually abused by priests before they saved themselves by becoming artists.
Highway claims he's had no blow back from the indigenous community for his personal dissenting stance on residential schools, a forced assimilation which many Canadians view as a barbaric cultural practice that's left subsequent generations struggling with the aftermath of collective trauma.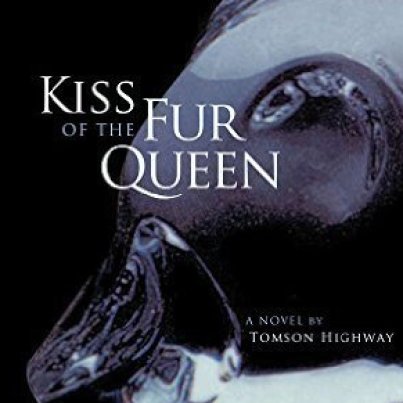 And it's a trauma he takes seriously. After graduating with a pair of degrees from the University of Western Ontario — a bachelor of arts in honours music and one in English — he spent the next seven years a "native social worker" working with broken families and inmates.
These experiences have fuelled his award-winning plays, like "The Rez Sisters" and "Dry Lips Oughta Move to Kapuskasing," both of which focused on people living on native reserves, incorporating the difficult issues faced with the humour and spirituality of the aboriginal culture.
They won Highway accolades and awards, as well as a spot on Maclean's magazine's list of the 100 most important people in Canadian history.

Tomson Highway, pictured with actor Graham Greene in 1989, after winning Dora Awards for "Dry Lips Oughta Move To Kapuskasing." (Photo: Bernard Weil/Toronto Star via Getty Images)
Highways says that example of cultural figures like himself and Inuit throat singer Tanya Tagaq, and especially political figures like new Justice Minister Jody Wilson-Raybould are demonstrating what is possible.
"We can get all kinds of help from the non-native community, and we are. The white people like us, they really do. I sleep with one of them every night with my arms and legs wrapped completely around him," he says with a smile, adding that he's been with his partner, Raymond Lalonde, for 31 years.
"[But] only we can solve the problem and the only way we can do it is to go to school, get a fantastic education, and just do successful things. We need young native people to grow up believing that they can be brilliant and successful. That's the only way we can fix things: elevate the level of education, elevate the level of literacy, and it will elevate the frequency of success."
 "The only way we can fix things: elevate the level of education, elevate the level of literacy, and it will elevate the frequency of success."
 As an example of how much has already changed, Highway points out he was the first person in his village to graduate high school, and that when he initially attended the University of Manitoba "in a student body of 22,000 students there were maybe 15 native students." (Notably, he says those students included Ovide Mercredi and Elijah Harper.)
"We still have very many social problems but at the same time a lot of successful people are emerging. I'm the first generation, the second generation has started emerging, and are going to change the world. Wait until the third generation and what they're going to be doing."
Tomson Highway seen in 2001. (Photo: Louie Palu/Globe and Mail/CP)
However, Highway goes the opposite direction when asked about the issue of missing and murdered indigenous women.
"That is not a problem of aboriginal people. It's a problem of the white, heterosexual male. That's who's doing it. That's who's in trouble. That's where the disorder is. Why do men rape and kill women? That's what we should be talking about. Not the women, they're gone. There's nothing we can do about them. Those guys are still alive, and still doing it. And are going to do it again and again and again."
As far as moving towards this otherwise bright future, Highway believes Canada's new government — which just announced initiatives that include lifting the cap on funding for First Nations communities, as well as education programs led by the communities themselves — will improve indigenous lives in the country.
"It's fantastic that people like Justin Trudeau are behind us and are trying to help much as they can. We've been traumatized as a nation, and we're just coming out of that," he says.
"Education, that's the key. Everything else is spare change."
---